Consumer Brands
Our Values
Quality
Customer Focus
Fairness
Transparency
Continuous Improvement
Innovation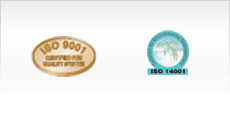 | | | |
| --- | --- | --- |
| | Home Care | |
Home Care

Angelic Fresh Air Freshener

Air Care is yet another product category ACI enriches its customers' lives with. Angelic Air Freshener; the pioneer among locally manufactured air fresheners is the leader in the category. It is the perfect way to fill your home, office or car with a cool soothing fragrance and to make the environment relaxed and tranquil. Its enticing fragrances are made from essential oils extracted from fruits, flowers and plants which lift your mood up and take you to the world of imagination. Citrus Burst, Orchid Breeze, Sparkling Orange, Fruit Punch , Misty Wood, Amazonia, Anti Tabac and Green Valley are the variants available in Angelic Fresh Air Freshener range.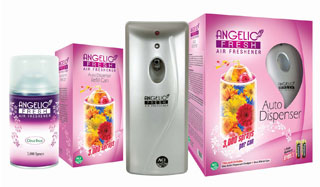 Angelic Auto Dispenser Air Freshener
Angelic Auto Dispenser is a battery operated machine to guarantee continuous discharge of fragrance that will keep the air fresh and charming for you and people around you at home or at workplace. It ensures a brighter, happier living place or office. With a choice of 2 exquisite fragrances to lift up your mood, Angelic Auto Dispenser will keep your home smelling sublime. Moreover, this smart looking machine will make the interior more elegant.
Each Refill contains 3,000 sprays which will last up to 125 days. With 3 time interval levels to choose from, you can adjust the discharge rate of fragrance to exactly the way you want.
Angelic Aqua Fresh

Angelic Aqua Fresh is a unique gas free, water based air freshener that delivers up to 12 hours of freshness to your home. This innovative home fragrance product contains elements that will burst to give you a mild fragrance once you sit, walk over or come in contact any other way with the spray residue. Now that is amazing! The Angelic Aqua Fresh "STAYS" in your room to keep you in mood. The light and invigorating mist allows you to instantly relish a beautiful home fragrance that smells as fresh as nature intended. It's so fresh that you'll want to use it in every room and from a single bottle you can spray about 690 times. Angelic Aqua Fresh comes in two variants; Zesty Jasmine and Rain Forest. It is perfect for use on car, office, home, sofa, curtain, carpet, cushion, bedspread, upholsteries, in wardrobe etc.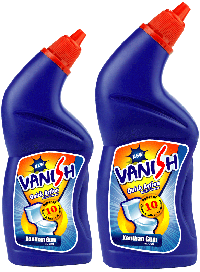 Vanish Toilet Cleaner
Vanish Quick Action Toilet Cleaner is a member of ACI Limited since 2003, but it was reborn in 2008 with new and attractive packaging with two different functional pack sizes like: 500 ml and 750 ml SKU. Vanish is the most effective toilet cleaner that kills 99.99% germs and ensure the maximum cleanliness in only 10 minutes , while the other toilet cleaner in the market including the most established brand offers cleaning and germ cleaning in 20 minutes. It has the excellent formulation added with Xantham Gum, LABSA and hydrochloric acid to challenge the product efficacy to any other brands in Bangladesh.
Cleanit Surface Cleaning Range:




"CleanIt Range" is a relatively new product category in Consumer Brands Division of ACI Limited. In this category, three products have been produced so far which are—i) CleanIt Shinex Floor Cleaner, ii) CleanIt Shinex Glass Cleaner and iii) CleanIt ROBO Car Shampoo with Wax.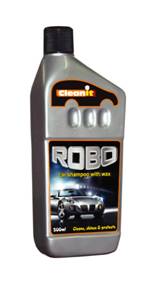 CleanIT ROBO Car Wash
"CleanIT ROBO" is a car shampoo with wax that deals with even the toughest dirt, protecting original paints and leaving a shiny effect offered by its wax properties.
Ordinary soaps or shampoos contain salt and other harmful properties which may destroy the original paints and protective coating on the car.
"Cleanit ROBO" is formulated with unique blend of cleaning and polishing agents, specially formulated for valuable car. The key benefits and differentiating factors offered by the brand are:

-Effectively cuts grease and all kinds of dirt and dust on the car surface.
-Leaves a shiny effect on the surface.
-Unique salt, phosphate and silicate free PH Balanced formula safe and suitable for car paints. Ordinary detergents and shampoos used to wash cars contain salt that may cause rust and damage of car paints.
-Conditioners in the formula moisturize the paint, while fighting against water spots.
-Biodegradable.
The 500 ml bottle is suitable to wash car more than 30 times.

Septex Floor Cleaner

Septex Floor Cleaner is an all-round antibacterial floor cleaning solution which provides clean floors with refreshing fragrance while killing all the harmful germs, thus helping to keep the beloved home healthier to live in. The regular use of Septex Floor Cleaner, which contains powerful antibacterial agent- BKC, serves to keep floor always clean by removing deep stains, dirt, dust and sticky soil.
It is available in 1 litre pack size and comes in two pleasant variants of Citrus and Floral which provides long-lasting freshness and fills the home ambiance with delightful fragrance. Also, it can be used on all kinds of hard surfaces in the kitchen, bathroom and other areas of the home. The attractive packaging of Septex makes the product stand out while also reflecting the premium quality that it guarantees to provide the consumers.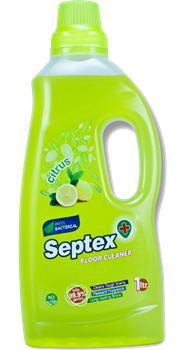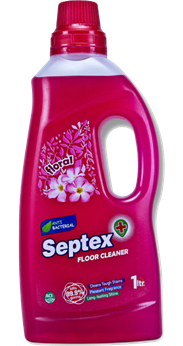 CleanIT Shinex Floor Cleaner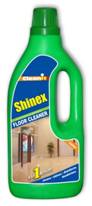 "Cleanit Shinex Floor Cleaner" is a surfactant based floor cleaner enriched with natural pine disinfectant and suitable for use on any type of floor surface. Its 4 in 1 Action effectively cleans, shines, disinfects, and deodorizes the surface leaving a pleasant fragrance.
The key benefits offered by the product are:
-Effectively cuts grease and all kinds of dirt and dust on the floor.
-Leaves a shiny effect on the surface.
-Disinfects, kills germs on hard surfaces.
-Natural pine fragrance leaves a fresh clean scent to deodorize your home.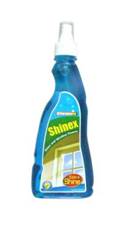 -Non-toxic, biodegradable, non-caustic and non-flammable.
CleanIT Shinex Glass Cleaner
Under "CleanIT", Shinex Glass Cleaner is the brand of glass cleaner which is a product intended to be used on any type of glass or similar surfaces with a steak free promise to make the glass look clear as well as to ensure proper hygiene and cleanliness.